ibm.portal.Web.Content.Viewer.Public
Non-Commercial Foodservice Trends for 2023
/wps/portal/quasep/root/Resources/Resources/!ut/p/z0/04_Sj9CPykssy0xPLMnMz0vMAfIjo8zizR0dXT0cDQx9DVzDDAwCTZ39nUy8zA0NPA30C7IdFQElVr_-/
Posted Date: Jan 23, 2023
Effective Date: Jan 20, 2023
Supply and labour shortages were the biggest issues in 2022 for institutions, making stability the goal for the new year. Solutions developed during this time serve as new business opportunities and as differentiators, while catering to new types of customers and needs. QUASEP is here to help you assess the situation and take advantage of these trends.
More and more, foodservice operators are considering the carbon footprint of their menus, and local products have become a must. When sourcing your food, look for direct partnerships to lower costs, shorten delivery times, build trust, make your job easier and promote local purchasing. Agricultural producers are often turning to institutions when they have surpluses, which offers both financial and environmental advantages. Kitchens therefore need to be flexible to deal with hazards such as diseases that destroy certain crops, or above-average temperatures that could accelerate the ripening process for some fruits and vegetables.
You can also try working with food manufacturers to create branded products. Start by organizing an event, such as a barbecue, where you partner for example with a butcher. Use this opportunity to monitor the ingredients you serve and to promote your company values, such as healthy eating with dishes that are low in sodium, sugar, and fat. It is not uncommon to have partnerships between institutions such as a private seniors' residence and a university nutrition department.
Take the opportunity to create an event and bring your partners closer to your clientele. This type of experience is sure to leave a lasting impression. For example, a baker could go to a school cafeteria to give a presentation on the bread-making process, talk about nutrition, or even give out samples of new products designed for the institution.
Open up to ethnic cuisines
The practice of cooking with less animal protein may be more popular than ever, but a new trend is emerging, and that is ethnic cuisine. This is seen everywhere from private seniors' residences to daycares or hospitals. Not only are we travelling more and trying to recreate those experiences, but we are seeing more and more immigrants in these institutions, whether seniors or parents of daycare-aged children, and these people want a taste of home.
Make the transition gradually, as you need to appeal to a wide range of customers. Not everyone is as familiar with ethnic food or as curious to discover new dishes. For example, when adding a poke bowl to your menu, you might want to start with raw vegetables only, and then add raw fish or even a vegetable protein. You can introduce ethnic food using local ingredients, and again, this can be connected to an activity such as a geography class.
Make use of technology
Technology has been increasingly helpful to institutions when it comes to dealing with labour shortages. With meal card systems, for example, you can offer two or three services close together instead of just one, which makes everything run more smoothly, reduces wait times and facilitates the payment process. Customer profiles help you plan the number of meals to serve based on the day of the week, and how much food to prepare based on the popularity of certain dishes. You can even remove the least popular items from your menu.
More and more institutions are installing robotic self-catering systems that provide hot, fresh, customized meals outside of traditional cafeteria hours. Staff members are still in charge of prep, procurement, and quality assurance, but the self-catering kitchen offers fast, 24/7 service, which helps improve customer satisfaction, for example among hospital employees, and creates a fun experience. This would also apply to self-serve smart refrigerators. Making affordable, healthy food available outside cafeteria hours is not only convenient for customers, but more profitable for you!
Hotel Industry Trends for 2023
/wps/portal/quasep/root/Resources/Resources/!ut/p/z0/04_Sj9CPykssy0xPLMnMz0vMAfIjo8zizR0dXT0cDQx9DVzDDAwCTZ39nUy8zA0NPA30C7IdFQElVr_-/
Posted Date: Jan 11, 2023
Effective Date: Jan 11, 2023
While no major changes are expected, current trends are sure to gain momentum in the new year. Follow QUASEP to find out what 2023 has in store, from technology to personalized customer experiences and sustainability.
The role of technology will continue to grow, starting with contactless payments, which appear to be safer and faster than handling cash or entering a PIN. As a result, the number of online reservations will increase, and websites will continue to evolve. Consider for example how the metaverse can enhance the customer experience and show guests what to expect. They could take a virtual tour of the hotel and choose a restaurant table to dine at upon arrival. Well-structured web content will help you reach those who use voice search functions on their phones.
This technology can also be used to control devices in the rooms, for example to order food from the restaurant. A robot could then deliver the order, displaying the restaurant's hours or menu, or even the name of the guest chef, as it moves through the hotel. If the food comes from a restaurant outside your hotel, customers must be able to share their location via your Wi-Fi network so that delivery drivers can find them.

Create a personalized experience
As you expand your services to meet the needs of your different types of customers—business, pleasure, local, intergenerational—you need to allow them to choose and pay only for what interests them. For example, offer custom packages that give them access to the restaurant and bar, but not to the spa and gym. You can also include options such as a private rooftop terrace or a massage. This creates an experience that moves away from what restaurants offer, and closer to what customers can find at home. Save your customers' preferences, and the next time they visit your hotel or one of your chain's locations, offer them the same experience or remind them of that memory a year later.
Try creating partnerships to develop branded products. Your mixologists can work with a company that specializes in 3D food printing. Think of printing a mint leaf that quickly dissolves when put in contact with rum to create a mojito. What about setting up rooftop beehives to make honey, or using fruits from your orchard to make jam, and selling these products in your establishment?
Show your commitment to the environment
Create an immersive customer experience using all five senses. Try placing different aromatic herbs on your restaurant tables and allowing customers to help themselves during their meal. In doing so, you promote your company values with fresh, locally grown products.
Highlight the quality of your food by displaying certain information on your menu—where products come, or how you select your producers, whether because they have free-range animals or organic fruits and vegetables. Be sure to accommodate different dietary needs, with gluten-free, nut-free or vegan options.
Add a compost to your restaurant kitchen to reduce waste, install a rainwater collector to maintain your garden, use bulk soap in the bathrooms, or opt for second-hand furniture and LED lighting. Do whatever you can to show you are committed to the environment.
Highlight: Save your customers' preferences, and the next time they visit your hotel or one of your chain's locations, offer them the same experience or remind them of that memory a year later.
Raising Your Menu Prices
/wps/portal/quasep/root/Resources/Resources/!ut/p/z0/04_Sj9CPykssy0xPLMnMz0vMAfIjo8zizR0dXT0cDQx9DVzDDAwCTZ39nUy8zA0NPA30C7IdFQElVr_-/
Posted Date: Dec 28, 2022
Effective Date: Dec 28, 2022
Inflation and global issues, from electricity costs to the war in Ukraine, are impacting your business in a major way. That is why it is essential that you review your entire operation and ensure it is still profitable. QUASEP is here to help you understand these issues and to offer solutions.
According to Statistics Canada, the Consumer Price Index (CPI) was up 6.9% in October compared to the same period last year. Despite the slowdown in price growth, the year-over-year increase in prices for food purchased from stores (+11%) continued to outpace the all-items CPI for the eleventh consecutive month. Canadians paid more for dry or fresh pasta (+44.8%), margarine (+40.4%), lettuce (+30.2%) and other items. The slowdown was further offset by accelerating growth in gasoline prices and mortgage interest costs. It is important to carefully examine each item that allows you to run your business, while assessing your current margins as closely as possible to determine whether the realized margins are in line with the theoretical ones.
Many foodservice operators have been quick to announce an increase in prices. In its Foodservices Facts annual report, Restaurants Canada says menu prices at full-service restaurants are expected to rise 7.8% by the end of 2022, compared to last year. About a third of operators expect this increase to be as much as 15%. Quick-service restaurants are expected to see a 7.1% increase in menu prices.
An Already Weakened Industry
This is an industry that was already struggling financially, with half of the country's restaurants reporting they were operating at a loss or just breaking even. Also, foot traffic to restaurants is still lower than pre-pandemic levels and, when adjusted for inflation, real sales are 11% below 2019 results.
At the same time, labour is a major issue, both in terms of shortages and rising wages. Restaurants Canada's report estimates that most restaurants are operating at 80% of their normal capacity. According to Statistics Canada, in March 2022, the number of vacant positions in the hospitality industry increased by 37.2% (+42,900) over the first quarter of the previous year to 158,100 vacant positions in Canada. Staffing issues are clearly limiting business opportunities.
Quality First
The risk is asking customers to pay more for their food while potentially reducing the level of service to which they were accustomed before the pandemic. They key word here is quality. If customers are paying more without good service in return, they will not come back and will give you negative reviews. Be willing to make compromises. For example, if you are short-staffed, cut down your business hours or outsource so you can continue offering homemade products.
Remember that customers understand these increases, as they experience them in their daily lives, so they are more likely to be careful with spending. This makes it all the more important to focus on the experience. This can be done culinarily by introducing a local producer or a food item cooked in a new way, or by creating an atmosphere through music or curated decor. And of course, pay close attention to how you greet your customers, as this can affect their perception of your restaurant's value for money!
Find solutions
The report recommends initiatives such as reducing portion sizes, changing suppliers, using cheaper ingredients, or simplifying and trimming menus to reduce food waste. Each of these actions can contribute to reducing costs for your business.
Follow price increases closely to ensure profit margins are maintained throughout the year. Some operators have also announced that if expenses go down, their prices will follow. Until then, it is better to increase prices gradually rather than boost them suddenly and shock customers. It is also important to factor in the different price points. For example, a product that used to cost $16 could easily be sold for $19, as it is still under the $20 mark. Round prices, as opposed to longer prices that include cents, appear less expensive to customers.
Highlight: Menu prices at full-service restaurants are expected to rise 7.8% by the end of 2022, compared to last year. About a third of operators expect this increase to be as much as 15%.
Supply Chain: A Major Challenge
/wps/portal/quasep/root/Resources/Resources/!ut/p/z0/04_Sj9CPykssy0xPLMnMz0vMAfIjo8zizR0dXT0cDQx9DVzDDAwCTZ39nUy8zA0NPA30C7IdFQElVr_-/
Posted Date: Dec 21, 2022
Effective Date: Dec 21, 2022
Labour shortages affect all levels of the supply chain, from producers to manufacturers and distributors. These shortages have led to delays, stockouts and significant increases in the cost of goods. QUASEP is here to help you when it comes to applying different supply chain management strategies and offering your customers the best possible quality.
It all starts with your supplier. Developing a close relationship with your supplier can give you access to key information when it comes to the success of your business. By understanding each other's situation, you will improve your chances of moving forward together and finding solutions that fit your respective needs. For example, offer your suppliers an alternate delivery day to help them optimize their routes, or give them keys to your building so they can make deliveries outside your business hours. This way, you have everything you need at the start of the day. This type of relationship could also help you become a better manager by being aware of any special offers or market trends.
Limiting your number of suppliers can give you greater bargaining power as well as improved service when placing an order. You may be given more competitive prices, more flexible payment options or even priority delivery. Try group purchasing to secure the best deals. Networking in this way can also introduce you to new suppliers if ever you need them, or to substitute products when you are out of stock.
One advantage of working with local partners is that it limits the number of intermediaries and potential obstacles. Being close to your suppliers also means faster response times, for example with last-minute orders.
Maximizing Your Orders
You will have more flexibility if you purchase a wide range of items that generate revenue for your business, especially dry goods that have a longer shelf life. Ideally, you will buy these goods at the lowest possible price. But you will still need to have the storage space, working capital and certainty of use. Also, the items most likely to be out of stock usually have limited purchase quantities per company.
Place your order well in advance to ensure timely delivery or to allow you and your supplier to find a substitute item if necessary. By limiting the number of items you require to run your business, you are limiting the number of problems you may encounter and making the most of each product. Purchasing an item in larger quantities gives you access to discounts and allows you to use it for multiple dishes, reducing the risk of loss and increasing your efficiency. For example, if you use only one type of meat, you minimize employee errors and avoid having to change equipment and clean work surfaces during prep.
Food is by no means the only product affected by supply chain issues. Equipment shortages, for example, sometimes require creative, short-term solutions. If the parts you need to repair your food processor are out of stock, you can try buying pre-cut ingredients or hiring students in the meantime.
Optimizing Your Resources
Inventory management software helps you be more reactive by making it easier to follow up, manage and organize stock levels, orders, sales and deliveries. This way, you will avoid going out of stock, maintain an optimal supply, track products after delivery, and prevent product obsolescence and waste. You will save a great deal of time, versus doing it manually.
Menu engineering is a framework for evaluating a restaurant's menu prices based on sales data and food costs. This process helps identify the most expensive items so that you can remove them from your menu or repurpose them for the best value.
Mistakes, waste and portion sizes should all be factored into your inventory to improve your operations management. For example, if tortilla packages always contain broken ones, consider using these pieces in another recipe, such as bread.
Highlight: One advantage of working with local partners is that it limits the number of intermediaries and potential obstacles.
Going Cashless
/wps/portal/quasep/root/Resources/Resources/!ut/p/z0/04_Sj9CPykssy0xPLMnMz0vMAfIjo8zizR0dXT0cDQx9DVzDDAwCTZ39nUy8zA0NPA30C7IdFQElVr_-/
Posted Date: Dec 09, 2022
Effective Date: Dec 9, 2022
Several businesses have started accepting only card payments, while others fear going cashless will mean losing sales. The pandemic has accelerated this transition, but still, not all customers are familiar with virtual transactions. How fast should you move? How can you help your customers embrace this change? QUASEP is here to guide you.
Many households are still unbanked or underbanked, including people living on low incomes, as well as children and students. Some neighbourhoods are more affected than others, along with certain rural areas. We recommend that you consider these factors before deciding, and that you identify your target customers and their buying habits. You should also analyze your current transactions and the practices that have been implemented in neighbouring establishments.
Taking away cash as a payment method may be limiting for some customers, yet more and more people are ordering online. This encourages them to access your website, which helps you get to know them better, offer targeted promotions and develop a reward system that acts as an additional payment method.
You can also use software applications such as POS systems and analytical tools to identify, track and manage spending patterns to help you invest in the right places, which then makes it possible to invest more. It also makes it easier to report your financial activities in the case of an audit or when filing your tax returns.
Security and Speed
Payment by card is much more hygienic since there is no need to handle coins and bills. It also means fewer cashier errors, which improves customer relations. With no cash on site, there is less risk of being robbed, and employee safety is increased.
Going cashless also saves time; no trip to the bank for change before opening, no need to count change during transactions—reducing lineups and allowing staff to be more attentive to customers—and employees spend less time cashing out at the end of a shift. If you're a large business, you no longer need armored vehicle cash pickup. Faster service also means customers are more likely to shop at your place, no matter the size of the order, which increases your business opportunities.
Notify and Explain
To avoid frustrating your customers, here are a few suggestions:

Offer a grace period during which you encourage card payments but still accept cash. Use this time to send the message that, in the future, only bank transactions will be accepted.

Have employees communicate the change verbally or even write it on receipts.

For people traveling longer distances, send out a message on your website or via social media.

After the switch has been made, you can put up a reminder on the front door of your establishment so that customers are aware before they place their order.
Customers are more likely to understand your decision if you provide explanations, such as your business having been robbed several times or the fact that you regularly experience long lineups.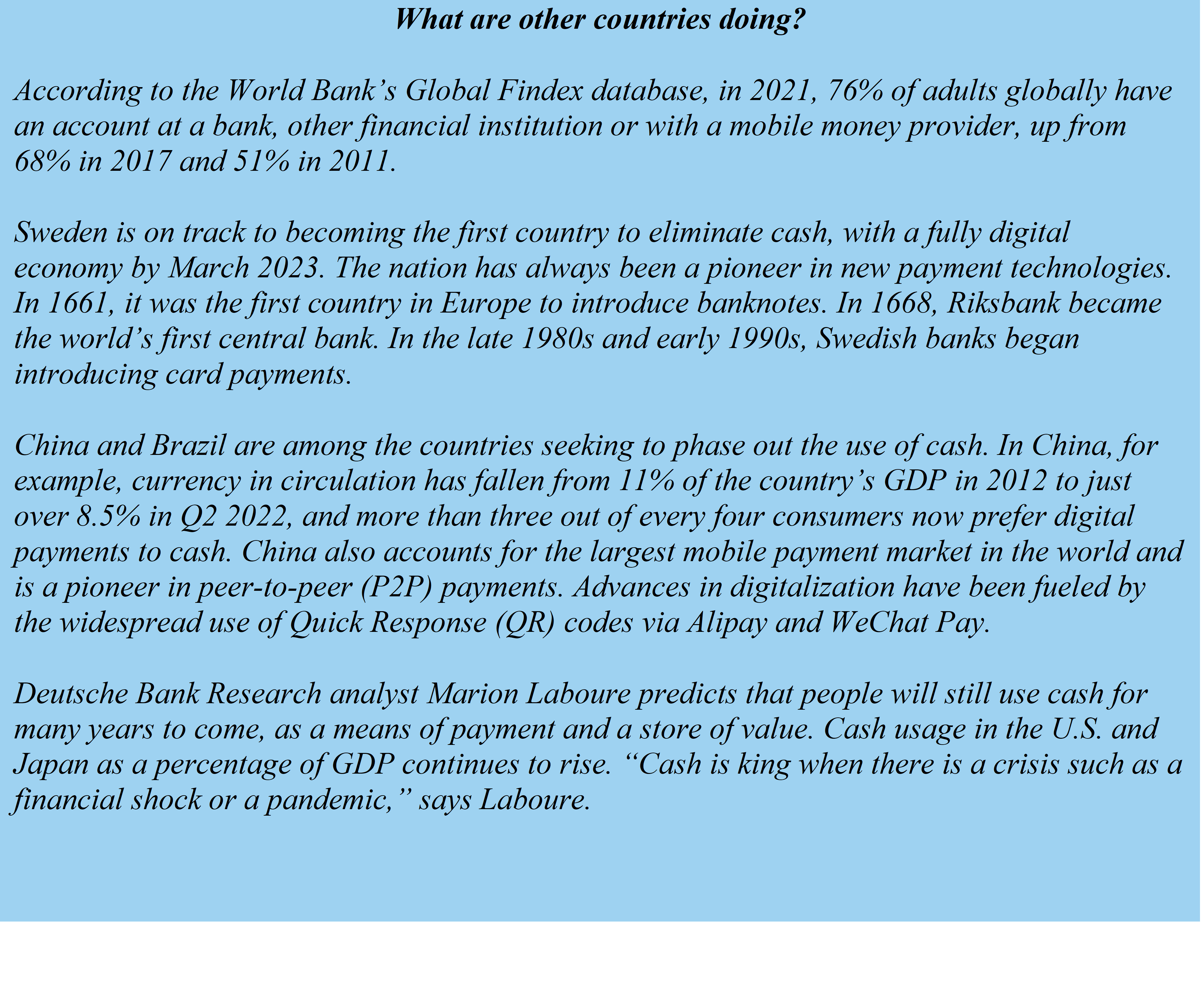 Highlight: Faster service also means customers are more likely to shop at your place, no matter the size of the order, which increases your business opportunities.
Chef-Inspired Recipe Swaps
/wps/portal/quasep/root/Resources/Resources/!ut/p/z0/04_Sj9CPykssy0xPLMnMz0vMAfIjo8zizR0dXT0cDQx9DVzDDAwCTZ39nUy8zA0NPA30C7IdFQElVr_-/
Posted Date: Sep 01, 2022
Effective Date: Sep 1, 2022
It's tempting to make sweeping lifestyle changes in your quest for better health. But research tells us those dramatic changes often don't last. Ever sworn off desserts? You're not alone! That's because healthy lifestyles are built on small, everyday decisions—and many of these habits are born in the kitchen. Instead of doing away with favourite recipes or food groups, think about giving them a health boost instead. This is the magic of swaps and substitutions.

"Recipe swaps are useful when you want to improve the nutrition profile of a dish, or if you've run out of an ingredient," says Chef Lisa Lombo. "The results are just as tasty, and they can make a big difference in the long run."

Full Fat Dairy

Dairy products add richness and moisture to many recipes. You can achieve the same effect with some swaps—but with less saturated fat.

If a recipe calls for butter, margarine or shortening as an ingredient, try using extra virgin olive oil when sautéing, puréed avocado when baking, or low-fat Greek yogurt in your mashed potatoes or spreads. Or try using cooking spray or a light coat of extra virgin olive oil to prevent sticking.

• If a recipe calls for cream, try using half-and-half or evaporated skim milk
• If a recipe calls for cream cheese, try using fat-free/low-fat cream cheese or puréed low-fat cottage cheese
• If a recipe calls for whole milk, try using low-fat/skim milk or non-dairy milks like almond and soy

Grains & Starches

This is your chance to introduce more whole grains into your meals. "With their filling fibre and other nutrients, whole grains are a no-brainer compared to their white or processed counterparts," says Chef Lisa. "Many people come to love their nutty flavour, too."

• If a recipe calls for dry breadcrumbs, try using rolled oats, crushed bran cereal, ground nuts or seeds.
• If a recipe calls for couscous, try using quinoa.
• If a recipe calls for white flour, try using whole wheat flour (use 7/8 cup (207 mL) for every 1 cup (250 mL) of white).
• If a recipe calls for mashed potatoes, try using mashed turnips or cauliflower
• If a recipe calls for pasta, try using whole wheat pasta or spiralized veggies
• If a recipe calls for rice, try using whole grain brown rice, bulgur, quinoa, pearl barley or riced cauliflower
• If a recipe calls for flour tortillas, try using whole wheat, corn or even lettuce wraps

Eggs & Meat

These savvy substitutions deliver flavour and muscle-building protein but with less fat. They're also a great way to be more plant-forward in the kitchen.

• If a recipe calls for eggs, try using two egg whites or ¼ cup of egg substitute for each whole egg. For vegan baked goods, ground flax seeds mixed with water works well, too
• If a recipe calls for ground beef, try using ground chicken or lean turkey breast or mix the meat with oats or vegetables like mushrooms or spinach. Chef Lisa also likes to use ground bison to replace beef. "It's typically lower in calories and fat than beef—and my kids can never tell the difference!"

Seasoning, Sauces & Dressings

With mayonnaise and sour cream, the calories add up quickly. Meanwhile, prepackaged seasoning blends can be sources of hidden sodium. Chef Lisa offers these easy tricks for keeping both in-check.

• If a recipe calls for mayonnaise or sour cream, try using reduced-calorie, reduced-fat versions, or low-fat plain Greek yogurt. You can go vegan with aquafaba, the liquid that comes with canned chickpeas. Aquafaba is also a great substitute for whipped cream
• If a recipe calls for seasoning salt (such as garlic, celery, or onion salt), try using herbs-only seasonings, such as garlic powder, celery seed, or onion flakes. Chef Lisa also notes that finely chopped fresh herbs, garlic, celery, or onions work well. You'll just need more of the fresh herbs and vegetables to equal the dried amount called for in a recipe

Make the Swap
Adapting a recipe is a matter of taste, so it's okay to tread lightly here. Usually, one or two swaps is enough for a single dish—otherwise, it may not have quite the taste or texture you're going for, Chef Lisa says.

"Start by replacing half of one ingredient, then add a little more of the substitute each time you make the recipe," she adds. "As a chef, I love experimenting and practicing my creativity!"

Remember: Healthy eating isn't all or nothing. Make swaps when you can and enjoy everything in moderation—knowing that small steps add up to big benefits for you and your family.


Note: Since everyone's health history and nutritional needs are so different, please make sure that you talk with your doctor and a registered dietitian to get advice about the diet and exercise plan that's right for you.
4 Smoothie Recipes to Bust Out of Blender Boredom
/wps/portal/quasep/root/Resources/Resources/!ut/p/z0/04_Sj9CPykssy0xPLMnMz0vMAfIjo8zizR0dXT0cDQx9DVzDDAwCTZ39nUy8zA0NPA30C7IdFQElVr_-/
Posted Date: Aug 03, 2022
Effective Date: Aug 3, 2022
Whether you're rushing off to work or looking to refuel after the gym, smoothies can be a healthy, grab-and-go option. Well-made smoothies are a delicious way to help get the fruits (and veggies!) you know you need, complete with an extra boost of vitamins and minerals to give you energy to conquer your day.

But it can be difficult to find the right flavour combination (and too easy to turn your smoothie into a high-calorie, high-sugar dessert). And even if you are the most tried and true fan of smoothies, you can find yourself a bit bored of the same old smoothie, with the same few fruits, day after day.

We're here to help bust you of out blender boredom with unexpected ingredients like mint, ginger, cinnamon, and more that add new, delicious, and healthy flavours to your smoothie list. Grab your blender and try these four Aramark chef-created smoothie recipes to make at home!

1. It's Easy Going Green

This is sure to be your new go-to drink. In addition to the power-packed kale and spinach, it has almond milk, zingy ginger, and earthy and colorful turmeric, which is gaining popularity for its anti-inflammatory properties. Ground turmeric can be found in the spice aisle of most grocery stores.

2. Berries and Spice and Everything Nice

You don't often see cranberries in smoothie recipes, but we think that's about to change! Here, vitamin C- and fibre-packed cranberries get added to sweet strawberries and blended with ginger and cinnamon for a little spiciness.

3. It's Peanut Butter Berry Time

We took the classic combo of bananas and peanut butter to the next level. This smoothie has it all – fresh fruit, extra protein, and it's dairy-free. The chia seeds add fibre and healthy omega-3 fatty acids.

4. Tropical Fruit Meets Cool Mint

This tangy smoothie is perfect for a hot day. The fresh mint adds a cooling taste, while the pineapple and apple sweeten it up. The vanilla yogurt adds creaminess.

When it comes to smoothies, don't be afraid to mix things up! Get creative and play around with different ingredients to find the perfect recipe that fits you.
Allergen Awareness: Risks, Causes, and Avoidance
/wps/portal/quasep/root/Resources/Resources/!ut/p/z0/04_Sj9CPykssy0xPLMnMz0vMAfIjo8zizR0dXT0cDQx9DVzDDAwCTZ39nUy8zA0NPA30C7IdFQElVr_-/
Posted Date: Jul 20, 2022
Effective Date: Jul 20, 2022
With businesses continuing to recover, risk mitigation needs to enter our radar once again. While incidents of allergy issues are not even in our top ten at the moment, we need to ensure we arm our team with training and education to help reduce risks.

As a food service provider, we still have an obligation to ensure that products are prepared and served safe with all proper precautions and systems to mitigate risk. In addition, you have an obligation to ensure your staff are trained and knowledgeable on how to respond to customer inquiries and questions about allergies.

What Is an Allergy?

An allergen is a substance that causes the allergic reaction (for example peanuts) which causes the body to respond negatively to substances that are normally harmless (for example: runny eyes, hives). When someone who ingests or comes in contact with a food item (or substance) they are allergic to, the body's immune system reacts negatively, and in some cases, the reaction can be fatal. We must remember this is a marked difference between people that suffer from food allergies versus a food intolerance.

What Is a Food Intolerance?

Food Intolerance is a person's inability or difficulty to digest a particular substance. For example, celiac disease is caused by the gluten found in wheat & wheat products, and a lactose intolerance is caused by the milk protein found in dairy products. While some of the symptoms for an intolerance may be similar to an allergy, the body reacts differently, and the risk is much lower (in most cases).

Which Foods Are Most Commonly Considered an Allergen?

It is important to note that any food can cause an allergic reaction, however 80% of food allergies involve dairy wheat, soy, eggs, peanuts, nuts, fish or seafood. Note: Peanut allergies are the leading cause of anaphylaxis.

How Do Allergens Get Into Our Food?

There are two common ways that allergens get into our food. They are either an ingredient, or there has been cross contamination. In Canada, virtually all packaged products now contain allergy declarations if one of the most common allergens is contained in a product. As long as we are purchasing/selling products in the original packaging as designed for resale, the risk is greatly reduced. Ensuring packages are sealed and not broken prior to displaying will provide a comfort level that your offering is safe and secure. While quite minimal in the vending and micro market business, there is still a potential for cross-contamination to occur which can increase the risk.

However, with the return to in person dining, our business is all about raw ingredients and assembling of products and offerings to make the most enjoyable meal and experience possible. This brings risk with both the ingredients and products we purchase and use, and also how we handle the product through point of receiving up to final service.

Reducing Risk with Proper Purchasing Practices and back-of-the-house Activities

Allergens can appear as a clear ingredient (i.e. peanuts in a satay sauce), or an ingredient of an ingredient (i.e. wheat used as starch in a sauce). The good news is that all top allergens must now be clearly labelled in Canada so using foodservice products procured from professional distributors ensures you are providing a safe experience.

Here are some common ways to reduce risk associated with allergens in your establishment:
- Purchase ingredients from consistent suppliers and distributors
- Use consistent brands (if you are using a private label product the manufacturer and ingredients can change at any time so you must be extra diligent in reading labels each time)
- Teach your staff to read labels
- Ensure you have standardized recipes, and all staff are trained to follow them
- Follow proven sanitation practices in your kitchen- clean and sanitize all equipment and utensils that come in contact with food regularly; wash and sanitize all dishes and cutlery after each use; wash hands regularly while handling all foods; and clearly label leftovers and prepared products
- Reduce risk through cross contamination.

What Is Cross Contamination and How Can We Avoid It?

The transfer of substances from one item of food to another by means of a food or a non-food medium such as equipment, utensils or human hands.

Cross contamination occurs from cooking utensils, food preparation surfaces, service utensils or cutlery, from food to food, and from human hands. Proper sanitation and good preparation practices will ensure you can reduce the risk of cross contamination.

Allergy Awareness at the Front of the House

Teaching and educating your front-of-the-house serving and host staff is just as important as the controls you put at the back of the house!

Here are a few things to ensure you have in place to handle customers with allergies:
- Hold a pre-shift or opening huddle with the serving staff to review any new menu items or features to review any allergens-anytime you add a new item to your offering your staff needs to know how it is prepared and the key ingredients
- Remind front of staff to follow proper cleaning and sanitizing practices (so cross-contamination between guests is minimized)
- Teach and remind your staff how to handle questions -is the floor manager, manager, or chef responsible to answer questions? Someone needs to be accountable!
- If guests ask about ingredients, first have your servers ask if they have a food allergy- often you can get more information immediately if this is simply something they avoid or it is a risk
- If you are uncertain about the accuracy of an ingredient or recipe, make sure we are honest with the customer, don't guess but find out!

Taking the time to train and educate staff on allergy risks in your business will help to ensure your customers' trust and show that you are delivering more than just food …you are also delivering peace of mind.

Need assistance in training your staff on allergen awareness to better support them in answering client questions? Let QUASEP help you! Contact your QUASEP Account Manager to find out how to access our staff education services specifically for allergy training. Our QUASEP Education program on Food Allergies and Awareness (2 parts) provides easy training programs online for all your staff at your fingertips. In addition, Hubert has an Allergan Cooking kit to help you provide that extra level of service for those clients with restrictive allergies. Check out the link on QUASEP for more information.


About the Author:
Brian Emmerton is a Registered Dietitian and the Vice President and General Manager of QUASEP, a leading supply chain solutions provider for hospitality and non-commercial clients in Canada.
Make the Most of Summer's Finest Fruits and Vegetables
/wps/portal/quasep/root/Resources/Resources/!ut/p/z0/04_Sj9CPykssy0xPLMnMz0vMAfIjo8zizR0dXT0cDQx9DVzDDAwCTZ39nUy8zA0NPA30C7IdFQElVr_-/
Posted Date: Jul 07, 2022
Effective Date: Jul 7, 2022
The summer season comes with many joys. But one stands out from the rest: gardens and farmer's markets bursting with crisp vegetables and juicy fruits in their prime. From sweet corn, green beans, and summertime squash to stone fruits, heirloom tomatoes, blackberries, and more, the abundance of fresh produce this season makes it easier to eat our way to better health and all the nutrients will help you feel energized and ready to take on the day.

Here's the scoop on how to choose, store and use your colourful summer's bounty:

Corn

Nothing says summer quite like sweet corn. Sweet corn straight from the cob is high in fibre, packed with antioxidants and is downright delicious. Sweet corn will stay fresh for about five days if stored properly in the refrigerator, and it can be grilled, boiled, or even microwaved. Aramark Chef Scott Zahren loves sweet corn tossed with a small amount of light mayonnaise, lime juice, smoked paprika and cayenne pepper for a quick and easy version of Elotes or Mexican Street Corn. We're a fan of adding it to our lunch grain bowls, too!

Cucumbers

Crunchy cucumbers can help us hydrate and stay, as the saying goes, cool as a cucumber. Plus, cucumbers couldn't be easier to eat! They are best eaten raw and can be enjoyed with or without the peel, making prep a breeze. For a simple, no-fuss dish Aramark Chef Scott Zahren recommends a fresh cucumber salad made with cucumbers, onion, fresh dill, a dash of sugar, salt, and pepper and a splash of cider vinegar. In the mood for something creamy? Take on Tzatziki, he says. This yogurt-based sauce, traditionally used in Greek-style meals like Gyros, utilizes fresh cucumber, onion, and garlic. You can even sub in Greek yogurt for regular for some added protein.

Peaches

Peaches have more than 20 micro and macronutrients, including fibre, vitamins, A, C, E, and potassium. They also contain the antioxidant beta-carotene. While they are delicious with no preparation, sometimes peaches bruise. Fortunately, there are plenty of ways to use up those not so pretty ones. Try Aramark Chef Bill Allen's Fired Up Peaches, a zesty hot sauce that you can use to add a bit of bang to your burger. To make it, put peeled peaches and tomatoes, chilis, salt, sugar, and a little water in a saucepan, bring it to a boil and reduce. Cook it until the peaches are soft, and then cool the mixture for a bit and puree. Store it in the refrigerator or enjoy immediately! Other peach options include drying slices for a nutritious, chewy snack or grilling with cinnamon or nutmeg for a tasty, healthy dessert.

Tomatoes

Tomatoes have plenty of nutrients, including vitamins A and C and the antioxidant lycopene. And, with so many varieties to choose from, it's easy to include tomatoes in lots of dishes. Just remember to store your tomatoes stem end up on the counter to prevent bruising and to keep them tasty. The cold temperature in the fridge weakens the flavour and prevents tomatoes from fully ripening. Aramark Chef Scott Zahren is a fan of using tomatoes in Israeli Salad. He combines Israeli couscous, fresh tomato, cucumber, herbs, and a vinaigrette dressing. The wonderful thing about this dish is that it's so versatile! Try parsley, mint, or chives for the herbs. For additional nutrients throw in bell peppers and spinach. You can even swap out the couscous for another grain, like quinoa.

Watermelon

Don't know how to select a watermelon? Look for a firm, symmetrical melon that doesn't have bruises, cuts, or dents. Lift the watermelon and select one that is heavy for its size with a creamy yellow spot on the underside from where it sat on the ground. Watermelon is tasty and easy to enjoy sliced, but there are plenty of other ways to eat it, too. While we love a good watermelon feta or cotija salad, we're also big fans of Aramark Chef Bill Allen's savory Watermelon Prosciutto Salad. Mix cubed watermelon, arugula or other greens, a small amount of thinly sliced prosciutto and parmesan cheese, and olive oil and balsamic vinegar for his Italy-inspired dish. Another option is to make watermelon ice cubes. Watermelon is 92% water, so you can cut it into cubes and freeze it on wax paper. Then, use the cubes for added colour and flavour in lemonade and iced tea!


Note: Since everyone's health history and nutritional needs are so different, please make sure that you talk with a registered dietitian to get advice about the diet and exercise plan that's right for your customers.
Keep Calm and Keep Disinfecting!
/wps/portal/quasep/root/Resources/Resources/!ut/p/z0/04_Sj9CPykssy0xPLMnMz0vMAfIjo8zizR0dXT0cDQx9DVzDDAwCTZ39nUy8zA0NPA30C7IdFQElVr_-/
Posted Date: Mar 16, 2022
Effective Date: Mar 16, 2022
Make your visitors feel safe when it counts the most.

After two years of trying to keep COVID-19 under control, pandemic fatigue is becoming a real problem. News of another variant makes the return to normal life seem that much further off, which can make it difficult to stay motivated to keep up with the seemingly constant changes. Louise Taillon, Sani Marc's Director of Training, has been helping clients clean for both health and appearance for more than 30 years. In 'Your questions in good hands', Louise answers some important questions about how to stay the course in the fight against COVID-19.

What do new COVID-19 variants mean for building owners?

As new variants emerge you have to keep being vigilant in your efforts to maintain a clean and healthy environment. Even before COVID-19, disinfecting has always been essential for breaking the chain of infection and preventing the spread of germs that make people sick. This includes influenza, noroviruses and E. coli, all of which can be transmitted by hands and high touch surfaces. According to a 2020 report published by Deloitte, 62% of hospitality customers consider cleaning surfaces between interactions as essential to customer safety. 73% of property management employees want to see cleaning taking place throughout the day in order to feel safe, and 83% of retail customers say their perception of a store's hygiene practices greatly influences their decision to shop there. During this time when people are fearful of entering facilities and interacting with others in close quarters, businesses must adopt new methods of cleaning.

Why is the added vigilance important?

It reassures clients, building users and employees that your building is safe, and it goes a long way towards building consumer confidence. Pandemic fatigue is real, but people still want to feel safe and they welcome any efforts made to protect them from contracting the virus.

What can be done to keep staff and visitors motivated to fight COVID-19?

Let your staff know that by taking extra care in disinfecting and allowing themselves to be seen doing so, they are becoming part of a much bigger solution. Their efforts will not only reflect well on them as employees, they are helping to protect themselves as well as their families, and they are contributing to the clients' reasons to believe in the company and its values. On a more practical level, encourage good hand hygiene by providing disinfecting wipes and hand sanitizer and keeping restrooms well stocked with hand soap. Use infographic posters to demonstrate proper handwashing technique. Taking steps like these shows that your organization makes customer and staff health and safety a top priority.

What should we disinfect first?

Disinfect what matters. 80% of germs are spread by hands and viruses can live on hands for five minutes. Identify hand touch points (high touch points) and create a schedule to disinfect them several times during a day. There's no need to disinfect all surfaces several times a day; only surfaces that are touched by multiple people.

When is the best time to disinfect?

Disinfect touch points during the day when building users are present. This helps to create a sense of security, that the building is safe. Clients and visitors who see this are more likely to return.

What is the most important thing to remember when disinfecting?

Respect the contact time or dwell time of the product you are using and make sure your surfaces stay wet with the disinfecting solution for the amount of time indicated on the label. For information about products, tools and turnkey solutions you need to help with COVID-19, visit https://www.sanimarc.com/disinfectant-product/.
Five Tips to Protect Your Property During Winter Months
/wps/portal/quasep/root/Resources/Resources/!ut/p/z0/04_Sj9CPykssy0xPLMnMz0vMAfIjo8zizR0dXT0cDQx9DVzDDAwCTZ39nUy8zA0NPA30C7IdFQElVr_-/
Posted Date: Mar 02, 2022
Effective Date: Mar 2, 2022
One of the smartest things you can do as a business owner or property manager is to implement a winter disaster preparedness plan which will allow for you to be prepared for issues that might arise. The colder months not only bring plummeting temperatures but also ice, heavy winds, freezing rain, blizzards and snow that can wreak havoc on your business and your bottom line if you aren't prepared.

Winter storms can create a higher risk of car accidents, hypothermia, frostbite, carbon monoxide poisoning, and can knock out heat, power, and communication services. Know your area's risk for winter storms and pay attention to weather reports and warnings of freezing weather and winter storms. Sign up for your community's warning system or visit The Emergency Alert System (EAS) for emergency alerts, so you can stay on top of any potential threats related to winter weather conditions.

With the potential threats that the colder months can bring, businesses need to take every step possible to winterize commercial facilities including:

1. Avoiding Frozen Pipes and Plumbing Issues: Take steps to avoid frozen pipes by checking exposed exterior pipes for signs of cracks and openings that can lead to water leakage and freezing. Seal any cracks that are identified. Keep interior temperatures at a minimum of 55 degrees at all times during the colder months.

2. Checking and Inspecting Building Insulation: Have an expert come in to check your HVAC systems to see if interior or exterior insulation needs to be replaced. Routinely replace all building air filters. Old or inadequate insulation and filters can lead to higher energy costs.

3. Inspecting Roof Space and Clearing Debris: Clear your building's roof space of leaves and debris that can cause blockage of gutters. Doing this will allow melting snow to properly drain away from the building. Clearing debris can prevent ice dams and heavy snow from buildup on your roof which will prevent excessive loads on the roof and can cause unwanted structural damage.

4. Routinely Checking Property During Cold Periods: Check your commercial spaces regularly, at least once per week during the coldest months and winter storms, to identify a potential issue before it becomes a problem.

5. Partnering with a Restoration Professional: Develop a partnership with a professional restoration company that offers emergency planning services, so you are prepared if the worst happens despite all of the preparation. A trusted restoration company can help you create an emergency response plan in the event of winter weather related emergencies.

About FIRST ONSITE

FIRST ONSITE is Canada's leader in disaster restoration for commercial properties focused on prevention, preparedness, response, mitigation and recovery. Locally-based and backed by extensive national resources, they can be first to arrive and first to make a difference when (or before) you need it most. Their unmatched speed, scope, and scale combined with and excellent team of professionals committed to excellence, service, and doing the right thing, ensures they can help your business whenever their services are needed...no matter what!
When Confronted by Complainers - Reframe!
/wps/portal/quasep/root/Resources/Resources/!ut/p/z0/04_Sj9CPykssy0xPLMnMz0vMAfIjo8zizR0dXT0cDQx9DVzDDAwCTZ39nUy8zA0NPA30C7IdFQElVr_-/
Posted Date: Feb 02, 2022
Effective Date: Feb 2, 2022
Complain, complain, complain! What's with the constant complaining!!!
Hey, we know you have one, or two, or maybe even a whole posse of complainers. Unfortunately, when left unchecked, a few complainers can gain momentum, and have a damaging effect on those around them.

So, let's stop complaining about all the complaining. If we take a few minutes to understand why people complain, we can then "reframe" the complaining – and achieve new, and hopefully, more positive outcomes.

Understanding Why People Complain

To deal effectively with complainers and their negativity (both new complainers and chronic complainers), it helps to step back and look at what may have triggered the negativity, or why these people are so invested in being negative, for so much of the time.

There is no one reason why people complain. As with all human behaviour, there are many possibilities. Here are a few common examples:

Scenario 1: The "Done-Wrong-By" Response - The person who feels they have been misunderstood, mistreated, or just plain missed! The infractions (both real and perceived) may be based on something you have done, or that your predecessor was responsible for, or were done by a previous employer, or may even be based on life circumstances beyond the workplace (such as the "mom always liked you best" cause for complaining!)

Scenario 2: I Need to Feel Important - Rather than gain recognition as a result of making positive contributions in the workplace, some may derive a sense of importance or significance through complaining. When constant complaining results in action, or reaction, the person feels (and may be seen as) important, which of course serves to reinforce the complaining behaviour.

Scenario 3: You Made a Mistake! - Yes, sometimes people complain because you really have done something wrong, or that they disagree with your decisions or actions, and they let you and everyone else know about it. Guess what - it happens! As a human being, you do make mistakes. In such cases, it becomes an issue not because the complainer is complaining, but rather how they bring forth the concern.

Regardless of the scenario, whether this is a rare occurrence, a periodic response, or constant behaviour, before responding we must remind ourselves of the universal truth of all such human behaviour:

People do what they do because of what they get when they do it!

People complain because it works for them, or because it has worked for them enough in the past that they have decided to make it a part of their response process. Without beating up on ourselves too much as parents, aunts, uncles, etc., we all know how challenging it can be to NOT give in to the complaining child (we are using that term graciously here!) who makes a fuss over something they want in the mall. The point is, we have all learned that complaining can be productive!

Complaining behaviour in the workplace becomes a challenge based on
• when it is done (constantly, or at inappropriate times),
• why it is done (for self-gain without consideration for others, or not for improving things), and
• how it is done (such as loud and aggressive, or a personal attack on others).

So, whether the person is complaining to improve things, to gain recognition, to get back at someone, or to be left alone, if handled poorly, it can be very destructive to the culture of the organization.

Responding to Complaining

Because every situation is different, and every person brings their own unique way of responding, there is no "one-way" response to complainers. However, there is one common approach when dealing with complainers that heightens your chances of breaking the negative cycle of constant complaints, and that is by reframing the discourse.

Reframing involves changing the frame, or view, through which the other person is approaching a situation. When you prompt them to look at the issue differently, the situation can take on a different meaning, thereby changing the way the person is thinking about and responding to the situation.

If you change the way you look at things, The things you look at change!

What this means in practical terms is that since people do what they do because of what they get when they do it, by reframing our response to the complainer, responding with something they don't expect, they are confronted by an outcome that is "not normal." When we reframe from a positive perspective, it forces the complainer to think and respond differently, and gives you the opportunity to help them and you embark on a more constructive path of discourse.

Just as the complainer has learned to complain, most of us have developed our own response habits as well. Reframing requires practice, and at times, a thick skin – to avoid falling into the usual pattern of back and forth defending, and even counter-attacking, in response to complaining.

We have coined a few names for different reframing approaches, to help you quickly focus on a direction, when you are trying to formulate a reframed counter response to the complainer.

I'm So, So Thankful
When you receive a legitimate complaint (remember, you do make mistakes on occasion!), don't just accept it, but show your gratitude! Be thankful. Rejoice! Share that you value the person's willingness to share the concern, and appreciate the opportunity this provides you to make things right. If the situation applies, ask the person for their opinion as to how they think the issue could be resolved. By reframing the situation, you have subtly turned the complaining process around, and made it a positive, collaborative problem-solving opportunity for both of you – which reinforces a positive approach to making improvements.

Dumb as a Post
The complainer has started a rant, saying that everyone in the department is upset about the new policy, and that it only makes things worse. Rather than defend the change, play dumb, and ask questions. With sincerity, ask "Really? Tell me more about why it will make things worse, I really need to know." By asking about the complainer's position, you are accepting the person's concern as legitimate, and then you are able to elicit more details as to what they see as the limitations in the change. This might lead to greater insights for you, and it will alert you to any misperceptions that this person (and probably others) might have. You are now in a position to thank the complainer for bringing this to your attention. Your reframing has disarmed them because of your openness, and they are more likely to be receptive to listening to any explanation you might want to share.

Oh really?...Thank you!
This is the same approach as the previous one, but viewed from the perspective of a complaint about you. When the complainer tells you that you have really screwed up, and everyone is talking about you, be surprised and thankful. "I had no idea that you might see my actions that way! Thank you for bringing it to my attention. I will certainly make a point of explaining myself better with others. Thank you again!" If the person was truly trying to be helpful, you have shown your appreciation of their feedback. If they were just trying to take a shot at you to get a reaction, your reframing has totally disarmed them by turning them into a helpful colleague (in spite of their intentions).

Mining For Nuggets
When the person is on a full-blown complaining rant, going through a wide range of items, listen carefully to every point, looking for something you can agree with. Then ignore all the other stuff, and say something like, "You mentioned (the one "nugget" you do agree with), and I agree, this is a concern to me too. What do you think would help us deal with it more effectively?" Responding to complainers is similar to handling conflicts – finding something we can agree on builds trust and helps us connect with others, which increases the chances of working together in a more collaborative way. Always be on the lookout for common ground between you and the other person.

What an Opportunity!
Turn the complaint into an opportunity. In fact, if this person is coming to you to complain about an issue, then you must accept that there are likely others who share the concern. So, if you embrace the complainant's issue as a chance to improve, you have reframed the negative into a positive. "Wow, if we can fix this, what an opportunity to show how great we really are! Thank you for helping us live our Mission, and move closer to our Vision!"

So Glad You Care – You Need a Promotion!
When the complainer raises the issue, try, "This is really an important issue. I appreciate your level of concern, and you have so much insight. You have so much to offer, and could really help us overcome this challenge. How about it?" Perhaps try focusing on past positive experiences where you have been able to work things through, to win them over to the idea of working with you. Encourage them to think about what will be the benefit to them when the current negative situation has been overcome.

Time Out!
There are times when you really don't have the time to deal with the complaint, or the complainer has caught you off-guard with a touchy issue, and you are concerned that you might resort to an ugly back-and-forth with them. Give yourself permission to take a time-out – with a defined time to re-connect. "Thank you for bringing this to me. I have a call I have to make right now, so when can we meet so you can tell me about this concern without interruptions?" This is a respectful, non-avoiding response, and ensures that you have time to collect your thoughts and compose yourself should it be a contentious issue.

One Small Step For Mankind…
Chronic complainers tend to be tenacious about issues, repeatedly bringing up old issues, or jumping from issue to issue without trying to resolve anything. Complaining for the sake of complaining, and repeatedly going over the same issue won't do either of you any good. If the complainer is in the "jumping" mode, keep quiet, start writing each item down so they can see what you are recording. When they run out of steam, say, "Is that everything? OK, let's look at this list, and determine your priorities. What do you see as the most pressing issue?" You have respected their need to unload, and have demonstrated you are willing to systematically address the concerns.

Time To Move On
Sometimes you are not the right person to deal with the concern. If the issue is out of your hands as a manager, say something like, "Given your concern is about ______ , who should you be talking to about it?" If they don't know, tell them. If they do know, say, "I agree. So, when are you going to talk to ________ ?" – and seek a commitment from them that they are going to talk to the person responsible for the concern.

Summary

If these approaches all start to sound the same, it is because they are! The intent is to provide short, memorable trigger words that describe the response type, as a way for you to quickly reframe your approach and thinking.

Regardless of the starting point, the approaches focus on considering complaining as an opportunity to help the person and you overcome a challenging situation (or behaviour), rather than as problem behaviour unto itself. If you are always on the lookout for common ground between you and the other person, it reframes the dynamic for the complainer, and increases your chances of moving towards constructive exchanges.


About the Author
Ron Martyn is the Co-Owner of Silver Meridian. For over 20 years, Silver Meridian has focused on helping long term care managers hone their leadership skills, by empowering and energizing people, and becoming recognized as Inspired Leaders. (English only). The Silver Meridian approach to leadership practices are readily transferred to other sectors. Go to Silver Meridian (https://silvermeridian.com/training-focus/) to see the extensive listing of leadership options and solutions to your leadership challenges.